In this episode, I have the honor of speaking with two experts, a father-daughter team working on Artificial Intelligence and Artificial Psychology. Dr. Jim Crowder is a Systems Fellow at Colorado Engineering, where his projects include Research, Development and Deployment of Artificial Intelligence, Virtual Intelligence and Machine Learning systems and applications. He's also the creator of the famous Maxwell AI bot. Dr. Shelli Friess completed her doctorate at Argosy University in Counselor Education and Supervision and is a faculty member at Walden University's School of Counseling and Human Services. Her research interests include artificial intelligence, counselor development and wellness, trauma, and vicarious trauma.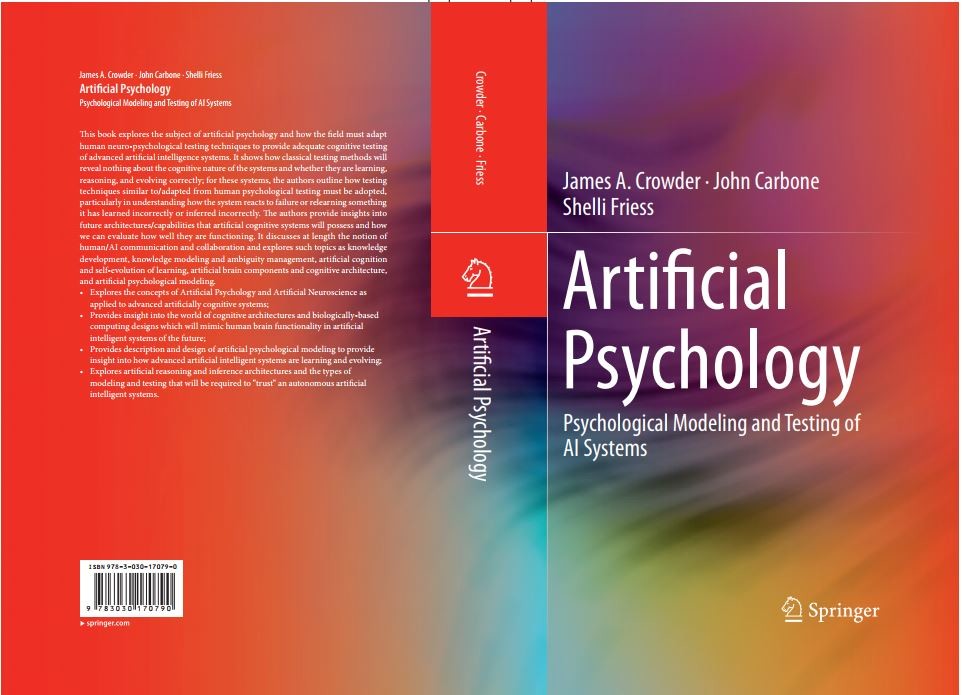 We had a great conversation and covered AI, Artificial Psychology, Artificial Consciousness, ethics and morals, and much more… Please enjoy this episode with with Dr. Crowder and Dr. Friess.
Questions we covered:

So, you're a Father-Daughter team, pairing work in Artificial Intelligence and Psychology. Tell me more about how you two came to work together. It's pretty unique.

Are you the first team to pair these two disciplines together?
Dr. Crowder, can you tell us about Maxwell? What's Maxwell up to today?

Artificial Intelligence & Artificial Psychology: tell us a little about the two concepts and how they relate to each other?

How do they relate to consciousness, in your opinion? [AI:Brain, AP:Mind?]
Do you each have different views of what human consciousness is?
Where does 'self-awareness' come in?
You mention that we won't be able to 'achieve people' but that we'll get close. What is that line between the two?

You mention the Artificial Cognitive Neural Framework, with a artificial cognition, artificial prefrontal cortex and memory. You also mention modelling. How does this tie together to create this 'psychology'?

How do you go about mimicking the brain's architecture?
Is there a difference between recreating a physical brain and recreating a psychology/consciousness?
And again, what about 'consciousness'?

Reacting to failure? What about the emotional piece? Dr. Friess, you mention emotion and AI. What are your thoughts on that?
In Consciousness, phenomenal experience, or qualia, is central to the 'hard question' of consciousness. Emotions seem to be central to the sensation of experience. How does that play into your work? Ramifications to consciousness, self-awareness, psychology?
Will robots need therapists?
You mention being able to 'trust' an AI. What do you mean by that?
What are the ethical considerations of building a psychological, even conscious, intelligence?
What will you two be working on in the future?
What breakthroughs do you see over the horizon in your fields?
What else would you like to share?
Podcast: Play in new window | Download